You may travel with your family to spend your vacation, or you may travel for your company as a business trip. If you are planning for travel, you should think about Travel Accommodations. During travel, accommodation plays a vital role.
If you book a cheap hotel, your travel expenses become cheaper. On the other hand, if you book a luxury hotel or resort, your over all travel expenses also going high.
Travel Accommodations and Lodging
Travel not to escape life but for life not to escape you, a popular quote. Nowadays, traveling has become more accessible and possible, allowing more people to explore worlds and cities thousands of miles away.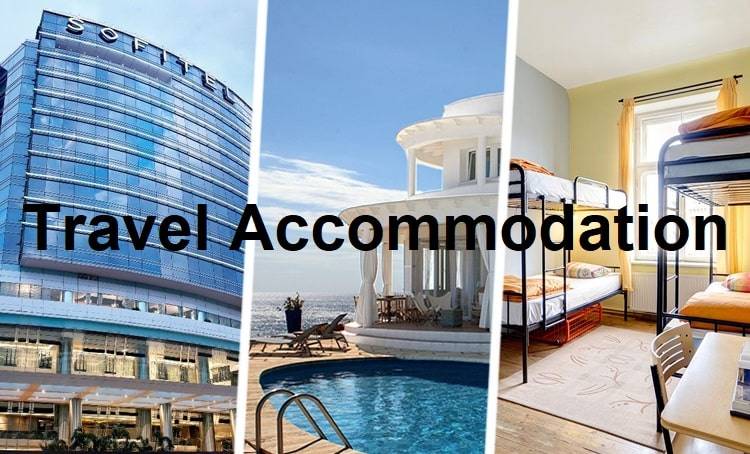 As one walks through foreign streets and enjoys a culture different from theirs, another essential aspect is finding that perfect travel accommodation that fully matches your style, goals, and budget.
There are many things to consider in finding the ultimate accommodation for your trip, below is an extensive guide on everything you need to know about travel accommodation as well as some tips and tricks to get the best deals.
Types of Travel Accommodation
In general travel accommodations are four types according to the nature of the travelers:
Family Travel Accommodations
Business Travel Accommodations
Solo Travel Accommodations
Group Travel Accommodations
Different Type of Travel Accommodations
There are verities of travel accommodations type available for different type of travelers.
The different travel accommodation types for the travelers are:
Hotels and Resorts
Extended Stay Motels
Short-term Vacation Rentals
Serviced Apartments and Condos
Hostels
Homestays
Villas
Airbnb
Hotels and Resorts
The most popular type of travel accommodation is hotels. They are comfortable, practical and very flexible according to your preferences.
There are hotels in all budget ranges, from low-cost ones to high-end luxury suites and penthouses. A hotel is also a popular choice with families and people on business trips.
Hotels also offer the best form of convenience, comfort and security among all other types of accommodation. Some hotels can accommodate one to two guests, there are family suites and multi-bedroom units for large groups.
Typical inclusions in a hotel stay also include a private bathroom and toilet, a small closet, a small fridge, sometimes a mini kitchen, and a buffet breakfast. Linens, towels, and toiletries are also provided for each guest. This is the best travel accommodations.
Extended Stay Motels
Weekly Hotels or Extended Stay Hotels have rooms that are well equipped with kitchenettes or in-room kitchens. With flexible floor space, spacious living, and discounted weekly rates, save around 30% or more on every stay.
Travel for pleasure, business, pleasure, even a vacation with family or friends; Extended stay hotels offer more for your money.
The extended stay hotels listed here come with in-room kitchens, affordable weekly hotel rates with facilities, a spacious living room that helps you feel at home and act like you're at home, a flexible area for use the place as you like, a wide range of value-added amenities and many other benefits for an extended stay in a hotel that helps you stay healthy.
Short-term Vacation Rentals
You may be traveling for work or pleasure, but either way, you'll need a place to rest. There are plenty of short-term rentals out there, and you can get some particularly good deals if you're looking to rent by the week or month.
Vacation rentals come in all shapes and sizes, whether you're traveling solo or with the whole family. From city breaks and beach getaways to once-in-a-lifetime adventures in Europe or Asia, there's sure to be a short-term rental to suit you. If you are looking for short-term travel accommodations vacation rentals is the best option.
Serviced Apartments and Condos
A service apartment is basically a development that contains fully furnished units, with regular maid service and convenient nearby amenities like supermarkets.
They are usually more affordable than hotels, especially if you are planning a longer stay. Of course, like most property questions, there are a few key things that can change that equation: amenities and location.
A service apartment has a commercial title, so the laws and taxes that govern this type of property are completely different.
Although condos and serviced apartments have fairly similar amenities, there are actually some notable differences between the two types of properties.
One clear difference between the two is that a service apartment is almost always marked for commercial use, as opposed to residential stays in condominiums. Serviced Apartments and Condos are another good option for travel accommodations.
Hostels
What makes the hostel different from hotels? Well, quite a few things. First, the hostels do not have the same level of exclusivity and security. Hostels are for those who want to cut some accommodation costs and experience a more social environment.
Hostels also offer everything from private rooms to shared rooms that vary from 3, 4, 6, 8, sometimes even up to 20 people in dorm rooms. Some hostels also function as an attraction in their own right, with unique features and interiors.
These boutique hostels are uniquely designed with detailed interiors and furnishings, sometimes with garden areas as well. There are also hostels popular for being "party hostels" with facilities including an in-house pub or rooftop bar, swimming pools, ping pong and pool tables.
In terms of room inclusions, some hostels offer free breakfast, towels, and toiletries, while others do not. Hostels are especially popular with backpackers due to their cheap rates and generally relaxed atmosphere. For solo travelers hostels are good choice as travel accommodations.
Homestays
Popular in urban or more isolated areas, such as mountains or farms, homestays are lodgings, often rooms or spaces rented by locals to guests visiting their area.
Homestays are great for experiencing the local culture and getting a real sense of being at your destination, often without breaking the bank.
Some homestays allow free accommodation in exchange for paying for services to the property. Included in these services are helping to care for the farm and animals, providing carpentry assistance, or lately even helping a business with its digital, marketing and IT needs, allowing one to stay in homestays.
Villas
A property commonly found outside of town or near beaches, villas allow guests to rent out the entire property. This is especially good for families and a large group of friends.
When renting villas, use of facilities such as the kitchen, outdoor barbecue and swimming pool are often also allowed. Staying in a private villa during the holidays is a unique experience, both for adults and children. For luxury stay villas are best choice as travel accommodations.
Airbnb
Somehow a mix between comfort, convenience, and budget, Airbnb accommodations have recently been popular with travelers. Options on Airbnb also range from single rooms to shared rooms and sometimes the entire property.
Another great thing about Airbnb is the flexibility. Whether you're traveling alone, as a couple, with kids, or with friends, from 1 guest to 30+, Airbnb has properties to accommodate you. In terms of interiors, some Airbnb's are also designed to have that unique style.
Some rooms or properties are beach-inspired, while others have that Scandinavian flair, to name a few. Airbnb properties also allow guests to use the facilities within the rental, such as the kitchen, pool, gym, etc.
There are also Airbnb properties that allow pets and there are some rentals where the host or owner of the property is also staying on-site – for example, a three-bedroom house or condo, with two bedrooms available for guests, while the main room is reserved for the host.
With the many options on Airbnb, it's important to always check the fine print. Airbnb has also added charges, such as a website service fee and sometimes a cleaning fee, depending on the host. For travel accommodations Airbnb is now becoming very popular.
Looking Factors of Travel Accommodation
Impulsiveness looks awfully bold and amazing in television, but I'm one of those tourists who'd really rather know she has a position to accident before coming in a international place. If that modifications your untroubled design, my regret — but sometimes a little satisfaction creates a little bit of preparing completely beneficial.
I like to know I'm getting a secure, fresh bed, that I'll get a excellent WiFi relationship, and that my provides are well liked by my tourists like me.
No, I'm not being fussy. Actually, with today's simple sources, these factors are really simple to come by before establishing feet in a unusual town.
Questions to Ask Before Booking Travel Accommodations
Not really sure what you're looking for? Explore the record below of points to examine before booking a travel accommodation. Do not forget that something really essential to you may not issue at all to someone else, and the other way around. This is about what you want in accommodation type – which will certainly differ significantly from the next vagabond's design.
1. Personal bathroom
Hostels and even some bed and breakfasts have distributed washrooms — something to think about if this issues to you.
2. Breakfast
Accessibility meals preparation facilities? Morning meals are becoming a typical service (even in some hostels!). Not having to be concerned about where to find your first meals can be an excellent comfort when you're advancing off beginning to trip a website.
Be sure to examine that your housing provides breakfast, and if so, what that needs. It could be a part of toasted bread… or an excellent banquet-worthy feast!
Another relevant choices access to meals preparation features or a kitchen region of some kind. This is typical for many hostels, and is useful as it allows you to keep your own meals in a refrigerator and make preparations it whenever you want. Cooking instead of going out to eat = significant cash saver!
3. Personal or distributed room
Dormitory-style hostel areas are the lowest priced way to go. But even if you really don't want to settle the same space as unknown people, don't quit on hostels just yet! Many in addition provide private areas, which are still less expensive than most resorts.
4. How delayed are the gates open
See if your resort or hostel has a curfew — you don't want to be trapped outside in a unusual town at 2:00 a.m.
5. WiFi access
While many travel accommodation hotel provide WiFi access to visitors, sometimes it is only available in a typical entrance hall place and not in the guestrooms. Sometimes, you may even have to pay — so ask ahead of time.
6. Location
Where is the book hotels compared to the city's primary attractions? Think about how you strategy to get from position to put. Will you take trains and buses or walk? Don't just think on this one — actually take out a map (hello, Search engines Maps) and see where the housing is in regards to the relax of the town.
7. Vehicle parking availability
If you're providing a car, either your own or accommodations, examine to see if there's somewhere to recreation place it, or if parking needs any unnecessary charges.
8. Disturbance level
If you like your shut-eye, examine hotel accommodation opinions to see how silent (or loud) it gets in the evening.
9. Good Journey Consultant reviews
So many tourists create the dreadful, unforgivable error of not studying Journey Consultant opinions before reservation resorts. Don't create this mistake! Consider travel agent your key travel planner: a totally free, sincere, inside-scoop about everything you ever required to know about where you will be remaining.
10. Helpful staff
Your provides may very well be the first residents you talk with in a new town, so choose friendly ones. Ensure that what other tourists believed of the housing employees in Journey Consultant opinions.
Believe it or not, we've only scraped the outer lining of points to look into when reservation resorts. For more travel accommodations reservation guidelines and techniques, check out Take Me With You.
What Questions to Ask Before Booking Travel Accommodations?